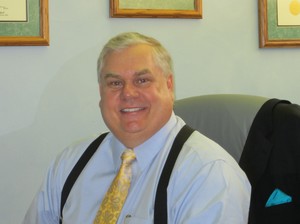 David W.
Deuel, ChFC, CLU
Investment Advisor Representative
I got off to a terrific start when my childhood sweetheart, Romagene agreed to marry me a little more than 38 years ago. We were blessed with a daughter, Buffy and two sons, Bradley and Brent. Each of them are very bright stars in our eyes and hearts. We eschew the term 'in-law' as too contractual so we choose to refer to our son's wives as Bonus Daughters, Tia and Sara, and a soon to be Bonus Son, Steve to whom Buffy is engaged to marry this year. And then there is Brody, our grandson, a shortstop who joined the lineup in November of 2010 and who reminds each of us of the countless blessings, responsibilities and opportunities with which we have been entrusted.
I began my professional career with a 6 year Active Duty enlistment in the U.S. Navy where I had the privilege to serve with an exceptional group of talented and dedicated individuals from all across the United States. My assignments included duty at N.A.S. Miramar, made famous by the hit movie Top Gun and Fighter Town's F14A Tomcat. The experience included deployments on the aircraft carriers USS Ranger CVN 61 and USS
Enterprise CVN65.
Following an Honorable Discharge, I joined a small electronic and electro-mechanical components manufacturing firm in Indiana. My responsibilities expanded during 10 years with the firm with the last assignment as Vice President of Sales for Automotive Operations. I had been a part of the team that helped grow a $7 Million privately held
firm into a $50 Million division of one of the largest publicly held manufacturers in Europe.
I now have over 20 years experience in the Financial Services Industry. Education and learning have always been important values and include a Cum Laude degree in Economics and Business Administration from Chapman College, the oldest Private College in California; as well as obtaining our industry's esteemed Chartered Life Underwriter (CLU) and Chartered Financial Consultant (ChFC) designations.
I am most profoundly grateful though to point to an exceptional group of lifetime associates with whom I count as mentors. They range from naval officers and private sector professionals of distinction, as well as, and not the least of which has been my father, Ronald L. Deuel CLU who began the original firm in 1960. He remains an active and valued colleague.
Oh, did I mention his grandson, Brent? If you haven't met him, you are in for a treat. You'll understand why I get excited about the next generation who is already on board to honestly and directly meet the dynamic needs of our client's economic challenges. The American Dream, it's real, and I am the living proof.